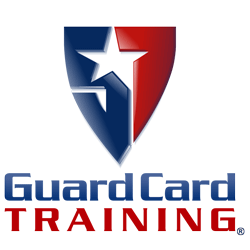 California Bureau of Security and Investigative Services (BSIS)
Welcome to the STC Guard Card Training® program offering for the State of California. The program is comprised of four (4) manuals for the complete 40-hour BSIS Skill Training Course for Security Guards (Guard Card), Permit for Exposed Firearm and Baton Permit training. The program includes a total of 62-hours of instructor-led training.
NOTE: These training manuals and materials are intended for use as part of an instructor-led course in accordance with the California Business and Professions Code. These materials may be used exclusively by BSIS licensed security officer trainers in approved and licensed training facilities or by licensed private or proprietary security officer agencies or business providers.
Available Instructor Materials:
Chapter Presentations
Chapter Examination Booklets (printable)
Chapter Examination Answer Keys
Available Student Manuals:
Power to Arrest Training Manual, Weapons of Mass Destruction and Terrorism Awareness for Security Professionals Student Workbook plus Supplemental Material
32-hours, Unarmed Skills Training Course for Security Guards: California
Continuing Education, 8-hours, Unarmed Skills Training Course for Security Guards: California
Firearms Training Manual & Baton Training Manual Student Text: California
Licensing Options
We offer two different licensing options. The material is the same in both programs, but each program has different benefits fitted to the teaching style and size of the school.
The first option is our "Pay As You Go" program. With Option 1 there are no recurring fees. Simply purchase the manuals, purchase the Final Exam/Presentation packet and begin teaching. There is no commitment or minimum quantity. The manuals are considered a reusable "classroom set."
The second option is our "Annual License" program. For a recurring annual fee, there are benefits not available in our "Pay As You Go" program. Most significantly, all of the training manuals are purchased at a steep discount. The discount is made available so that manuals may be distributed to students that they keep. Distributing personal training materials is not only an educational best practice it helps shield against liability claims. For example, the school not only presented the information in the classroom, but the student was provided with a personal, printed copy of the material that he or she took home. This makes it more difficult to claim, "I was never taught that." Second, all updates to the digital training materials (presentations, exams, answer keys, etc.) are provided for free so long as the license agreement is in effect (new editions of the printed manuals must still be purchased).
STC Guard Card Training®